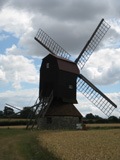 Before the industrial revolution came the agricultural revolution, when innovation in crops and animal types dramatically increased the yield from farming. The changes were accompanied by developments in engineering, with devices that enabled better tilling, sowing and husbandry. When steam power came to farming in the 19th century, huge industries were created; later still there were industrial methods and full mechanisation. Today's rural dweller, more likely a commuter than a horny-handed denizen of the soil, inhabits a countryside markedly different from 100 years ago, and unrecognisable from 200 years back.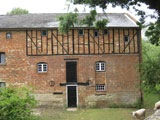 But relics remain. And if you take a leisurely three-mile stroll through rolling country in north Bedfordshire, you can begin and end at an example of pre-industrial revolution engineering. But you've got to get your timings right and I didn't.

Start at the Bromham Mill on the River Great Ouse five miles north-west of Bedford. It's open between 1pm and 5pm on a Sunday. Bromham Mill is late 18th century, but there's been a watermill on the site since Saxon times. Only some mill machinery is left inside now, and it hasn't worked with any regularity since 1936, and not at all for almost 40 years. There's an art gallery inside, but it's the outside that's attractive, with fat hairy sheep wandering about and an idyllic river with ducks bobbing down to a causeway bridge.

Your walk takes you through field and dale from water power to wind power. The 18th-century Stevington windmill sits alone in a field of ripening crops, a little apart from Stevington village. Timing is again of the essence, because you'll need to borrow the key for a small deposit from one of the village pubs. The machinery is pretty intact and in theory Stevington is a working mill, having been restored fully for the Festival of Britain in 1951, and updated and maintained since.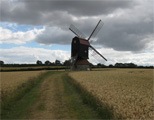 The design of post mill goes back further than the 18th century. Again, the last real work was done in 1936, which is not a bad date for when mechanisation and industrial methods took over British farming. Your timing should then enable you to return the key to the pub, have a quick drink and roll back down to Bromham. I got my timings wrong, so no drink. But with this kind of gentle engineering on show, who needs artificial stimulants?

First published in Professional Engineering, 28 July 2010