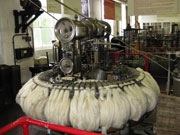 The textile mills that made Bradford prosperous are still the dominant feature of the Yorkshire city, and one of the biggest of them all is now home to the Bradford Industrial Museum. Fittingly, the whole top floor of the museum is taken up with with a huge array of mill machinery, from the spinning of the wool through to the production of the cloth. Much of it still works and on the day I visited in the wet summer of 2009 there was a constant stream of elderly Bradfordians taking small, often rather excited children around, showing them the looms and other machines that were commonplace from their own youth.

What's very good about this museum is that it treats the city's industrial history in an upbeat matter-of-fact way. Some bits are slightly roped off, but there's very little that's stuck away in a glass case, and as the definition of "historic" seems to be anything up to about, say, 25 years ago, it's not surprising that the sound you often here as you walk around is that of broad Bradford accents exclaiming: "I used to have one of those" or "I used to work at one of these".

And it's a remarkably broad range of engineering and industry that's represented here too. There's a machine shop with a lot of machine tools; a collection of stationary steam engines, some of which are working, while others are being restored. There are railway paraphernalia and a couple of locomotives. There's a printing works with hot metal linotype and monotype machines and the kind of flatbed presses that I can remember having my university newspaper printed on not all that long ago: it even has that wonder of the age, Letraset. Whatever happened to that? Computers happened, that's what.

But Bradford has other stories to tell too. When I came here first, almost 40 years ago, the city still ran trolleybuses, the last city in the UK to have them, and there's one shyly tucked away at the back of the public transport section. Trams too, though I don't remember them.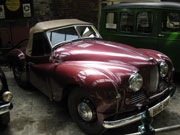 And then there are the cars. Bradford was the home to Jowett and in the 1940s and early 1950s there was no prouder UK car maker. In three successive years, the sporty but rather expensive Jupiter, with an engine no bigger than 1486 cc, won its class at Le Mans. Jowett's cars were classy and classic, but then the company over-reached itself, and its backers pulled out. In a precursor to what happened to rather a lot of the rest of the UK-owned automotive industry almost half a century later, Jowett went from hero to zero, from heyday to mayday, in a very short time.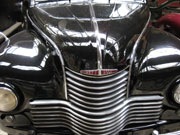 Industrial museums are not uncommon these days, but municipally-owned museums are an endangered species. My intention, when I went to Bradford, was to go across later on the same day to Halifax, to look at the Calderdale Industrial Museum, but it was closed, mothballed and uncertain of its future, said the friendly people at Bradford. The same fate, I felt, wouldn't happen to the Bradford Industrial Museum, with such a vast range of community activities and special shows going on. But certainty in these places is a scarce commodity. At one time, Jowett looked like a world-beater. But who now, outside aficionados and Bradfordians, knows the name?

Based on a visit to Bradford in 2009.

© John Pullin 2010