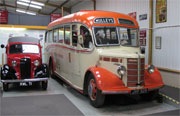 Historic Blenheim Palace, with its Marlborough and Churchill connections, is the main reason why tourists head into the eastern Cotswolds to the north-west of Oxford. But next to the little wayside rail station at Hanborough, the nearest mainline connection to Blenheim, is a collection of industrial-style sheds that houses less traditional museum material.

The Oxford Bus Museum and the Morris Motors Experience celebrate the transport history of the city a dozen miles away, and the distance is symbolic as well as real. Oxford, city of university, intellectualism and dreaming spires, appears often to have been somewhat at odds with its modern role as a manufacturing centre, with its attendant influx of population and the transport services they require.

It's the Oxford of town rather than gown, of Cowley and Blackbird Leys, that the twin attractions in the station car park cover, and very well they do it. The bus museum has more than 30 public service vehicles, and most have seen service within 30 miles of Oxford.

There's a concentration among the buses on the post-World War Two era, and many are open so you can climb aboard. London visitors may notice the restricted headroom upstairs, a product of low railway bridges in Oxford, and there are useful explanations of how this was achieved on standard chassis. Engineering is explained, gently and lucidly, as part of the story as a whole, which is how it should be.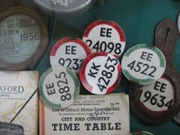 But there's a lot more than buses. The walls carry a timeline of Oxford's bus services in hundreds of atmospheric photos and artefacts; displays show the paraphernalia of bus travel, with tickets, timetables, badges and bits. This is rich social history.

It's political history too. William Morris, the carmaking hero of the second exhibition on site, intrudes into the bus museum as the man who took on the city fathers to demand a bus service for workers at his factories, when the don-dominated council provided only a restricted horse-drawn tram service in the ivy-clad areas. He set up his own, and some say Oxford never really forgave him.

Perhaps that's why, on the wrong side of town from the Cowley plant, the Morris Motors museum is here too. The visitor gets the chance to see inside the factories, and pick over the minutiae of working lives lived under a paternalistic employer. Apprentices' names on honours boards, invoices, skittles leagues, a visit from a Prince of Wales: the humdrum and the special are seen side by side.

These friendly museums both rely on volunteers and opening hours are limited. Best check the website first. But they make a nice contrast to the Churchillian grandeur up the road.

First published in Professional Engineering, 16 June 2010